A Message From Pastor Paul
Emphasis on Outreach!
October is going to be a very exciting month full of opportunities to reach our community for Jesus. Outreach will be our Theme for October as we we will be kicking off the month with our annual Harvest Festival on Sunday October 2.  See below for all our outreach events for the month.
Please pray for the church as we follow Jesus in the Great Commission and do it with a commitment to the Greatest Commandment that Jesus gave us by pouring out the Love of Jesus from our hearts to love others like Jesus loves us. So please pray that God moves in a mighty way to see lives changed all for the Glory of God! God is moving so let's join Him in His Kingdom work!
Lets Fall deeply in Love with Jesus!
Be Blessed in Jesus!
Pastor Paul
Words from Our New Discipleship Director
Well, where to begin. Let me first praise God for this tremendous opportunity as your Discipleship Director. Then, thank you for the confidence you as a church body have in me for this position.What can you expect from me?  First and foremost, Biblical leadership and teaching.  I solely believe that God's word leads every action and is the foundation of a Christian Life.  Secondly, you will receive an open mind, respect and truth.  I don't play around when it comes to Gods truth, it is black and white.
In the immediate future, I will be working with the Associate Pastor and Children' Ministry Director to get that "Wow" factor for our young ones.  In parallel, I plan on starting an immediate Sunday Bible Study for our 18-25 year olds.  These are exciting times for our church and growth is imminent. I, with your help, look forward to this challenge.
What do I need from you?  Your willingness to assist in the kingdom growth.  I cannot do this alone, so will be "watching" for teachers and assistants and well as home study providers.  With God's grace, we can build a lasting program that will invite others to attend and develop membership.  Thank you again for this opportunity.
In Christ,
Saturday Night Live Coffee House

On October 15th The Full Gospel Boogie Band will be celebrating their 25th anniversary with us at the coffee house. They will play from 8pm to 10pm, with the doors opening at 7pm.
The band will be selling merchandise. Visit the coffee house site for more information and to pass the word to friends.The items we need for this evening are:  hot dog rolls, box of variety of chips, fruit, veggie trays, and desserts. Feel free to bring a pot-luck to share as well. Sign-up sheet will be on the church bulletin board.
Beginning this month, child care for the kids will happen while the adults enjoy the music.  Children can either attend the fun activities suited for them or must stay with the adult who brought them.  Safety of the children is of utmost importance during these events. Our Associate Pastor, Eric Myers will oversee their care. Please contact Pastor Eric if you are interested in being part of this program.
Easy Access to Our North Glen Calendar
Do you follow our events on our Google Calendar? You can find our events on our website Calendar page, or, if you have a Gmail account, and want to be sure to get alerts about NGCC events, follow these instructions to add our calendar to your Google account.
Open your Google Calendar.
On the left side, find "Other calendars" and click the down arrow .
Select Add by URL.
Copy this URL, and paste it into that field:  https://calendar.google.com/calendar/ical/b3vbeqdrf15olb4u0q9bd6ab48%40group.calendar.google.com/public/basic.ics
Click Add calendar.
This will add our NGCC calendar to your Google Calendar list to make it easy to visit and see what's happening at any time.
Children's Ministry Update
This coming month, the children will begin learning two Christmas songs for our Christmas Eve service. Weekly attendance to children's church is very important.
Reminders
We have a new procedure for our children for Children's Church. At the end of the worship music portion of the service Pastor Paul will dismiss the children to walk to the back of the room to meet their teacher. At this point they will line up and go up together. At the end of the service, please go to the back hall next to pastor's office to get your child. Children will no longer be dismissed until they have a parent or guardian. We are attempting to keep our children safe as well as cut down the amount of running around that is being done.
Hopefully by now all current members and attenders will have taken a few moments to register their child for Children's Church. This is a MUST! The form can be found online. Should you prefer, we do have paper copies, see Kim Gayleard.
Outreach Events
There are going to be many, many chances to get involved in activities at North Glen! We are having our annual Harvest Festival on October 2nd 1-4pm. The church is asked to arrive starting at 9am to help setup to include the stage for the worship team. We will also eat an hour before the community arrives so we can focus on serving the community. Please look for the signup sheet on the bulletin board to see where you can serve or contact one of the church leaders.
New this year! We are excited to announce we are going to sponsor a Trunk or Treat at North Glen on October 30. Bring your car decorated with a theme and candy for the kids!
All are welcome to attend or participate! Arrive at 5:30pm and the trunks will be open for the community to come around 6:30.  Donations for candy also welcomed and can be deposited in the box at the back of the sanctuary.  Please message Rick Holmes or I for more info or to sign up to help.  We will also have kid's games!
In Christ,
Kim Gayleard.
Children's Ministry Director
Men's Fellowship
Saturday October 15th 9am – 12pm, we will finish painting classrooms and prayer room, setting up prayer room, de-cluttering kitchen, and various other tasks throughout church. Thank you to all who help.
Building and Grounds Leader
Mission Outreach Opportunities
Homeless Ministry
Our next outreach is on October 1st at 10:00 and lasts until 12:00.
The homeless ministry leaves from the church to deliver food and clothing to the people in Baltimore and Anne Arundel County.
As we meet the physical needs (socks, clothes, blankets, shoes, disposable bags to carry their clothing) of the homeless with the love of Jesus, we have the opportunity to bring the Good News to meet their spiritual health.
Sandwiches for distribution are prepared on Fridays at my home in Dundalk. The ministry accepts donations of bottled water, bread, cheese, and turkey meat.
During the week of October 17th, the church will be partnering with Arundel House of Hope's Winter Relief program to house 20 homeless men in the evening.  Men are needed to volunteer to oversee the men and the church during their stay.  Please contact Bill Bock on Facebook or at bbock1170@gmail.com if you are interested.
The list of mealtime needs is found below, and a sign-up sheet will be posted on the bulletin board or you can contact me at the link below.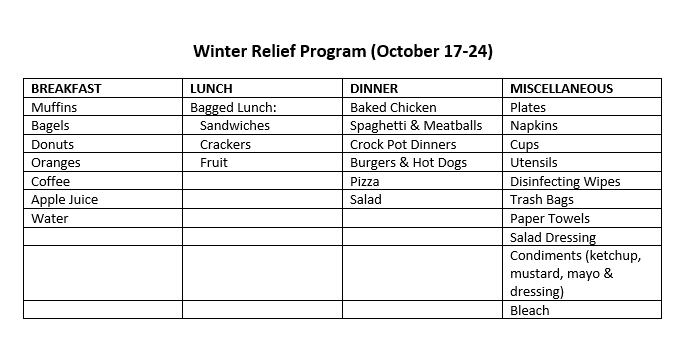 If you know of a person or family in need of assistance, please visit our website for the contact information for partners and referrals.
Vicky McDuffie, Homeless Ministry Leader
Childrens Church
We are always in need of help! We are currently needing an assistant to help on the first Sunday of the month.
Recovery Meetings
We will also be starting a new recovery meeting on Thursday,  October 6 @ 7 P.M. Meetings will occur every Thursday Night.
Greeters Ministry
If you are looking to serve in a church ministry, we have a place for you.  If you like to welcome people into North Glen with a friendly face and have a spirit of hospitality and serving others, we have openings in the Assimilation ministry.
Currently, we have two teams which alternate every Sunday passing out bulletins or Welcome Packets to newcomers.  We also have a team that makes the coffee (when the door opens) and mans the coffee and light breakfast area. If you are interested, signup at the bottom of the current schedule along with your interest and you will be contacted to see where you can plug in.
Coffee House Ministry
If you like a variety style of Christian music and like the outreach of these events to our community, here is an opportunity to not only attend and invite others to the event, but also to serve.  We appreciate those who have supported the coffee house over the past 23 years.  Even those who do not attend North Glen can serve in this ministry because of their love of music and others. We need volunteers to help serve food and prepare the church for the next day.  If you are unable to come the third Saturday of each month, tables and chairs are arranged the Wed before the event after Bible Study.
Also, child entertainment/care will begin this month during the same time.  If you are interested in being part of this, contact Pastor Eric.  If you are not already working in the children's ministry, a background check, for the safety of the children, will be necessary. We are very excited in also using this time to reach the children through things such as watching Christian children's videos.